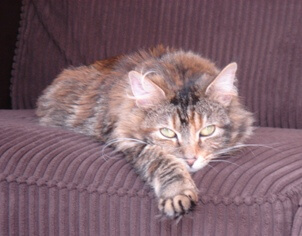 We've had Tsula nearly a year and wanted to let you know she's really happy and doing fantastically well. She has such a lovely gentle character and although I think she'll always be a bit on the timid side, she still surprises us by doing new things and carries on growing in confidence.
She loves attacking the sheets when we make the bed and this morning she was pouncing on my feet while I was reading in bed, which she's never done before and she's recently started jumping up on the sofa asking for head nudges too.
Here is a pic of the little lady with in her favourite pose with one paw stretched out, Super Tsula we call it!