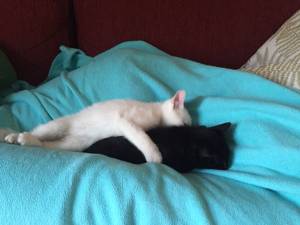 We adopted Basil and Sybil a week ago and it feels like they've been here forever!
When they're not chasing ping pong balls or each other's tails, they're curled up together in the warmest spot they can find.
They are bundles of mischief and so affectionate! If you sit down for more than 5 minutes you're pretty much guaranteed to be joined by two purring balls of fluff.
We couldn't be more pleased with them and wanted to say a big thank you for all your support getting them set up!