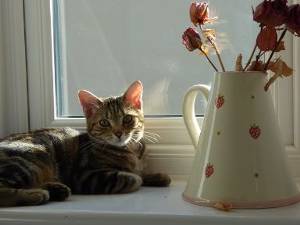 I wanted to get in touch to say thank you for looking after me during my first weeks of life and for finding me my forever home!
When I left you, I was very scared to be somewhere new, but I have found that there was no need to be – I am really happy here. I now live with three humans – one big one, one middle sized one and one small one. The small one is my favourite – she plays with me lots and give me lots of cuddles!
They also have what I think is called a dog – we didn't get on at first but now we have the odd kiss and find time to sit on the sofa together – one day I might snuggle up to him but I am not quite ready for that yet!
They also have a hoover, which I really don't like – she lives in a cupboard and tries to suck me up now and then before returning to the cupboard…very strange…other than that, I am loving life.
After a trip to the vet and having to wear a silly cone on my head for days, I am now allowed out! I have a little door of my own and can come and go as I please. I love exploring and playing in the garden, but I also love coming home and finding my food and a comfy lap to curl up on.
Thank you for giving me such a great start in life – I know I am going to be very happy here and feel very loved by my owners!