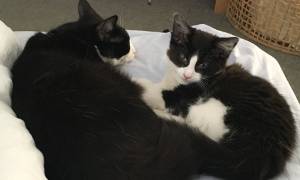 I just wanted to let you know that, after a quiet start from Bowie, they are both settling in really well now – and love tearing around the house after one another upstairs!
He still seems to be getting milk from her, even at 10 weeks old, so we are glad they are together.
Bowie was very timid at first, but then she had been moved three times I think so that is understandable. She is demanding strokes now and has really come out of her shell.
Hero waits by the front door when he hears you coming in and follows us around the house!