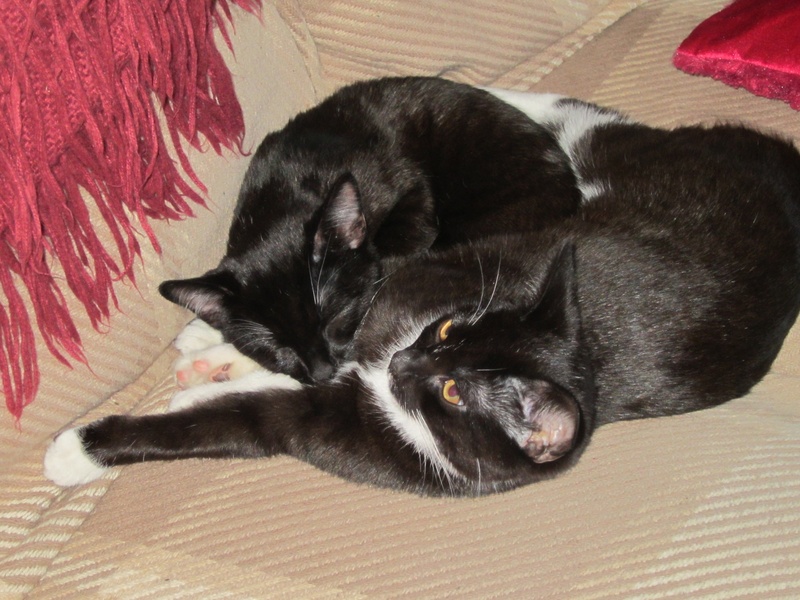 Just thought I'd share an update (and a bit of encouragement to potential owners of nervous kittens) on our two lovely kitties, Pickle and Peaches.
It's been an eventful few months. I have to admit I didn't think we'd ever get the divine diva Peaches to come round but we are getting there and she has even allowed me to have her snuggle on my lap on a few occasions. For a small cat she certainly has a big purr to match her personality and she just loves being told how gorgeous she is! Pickle is just as cute as ever and particularly likes to share a chair for a cuddle every evening – he's a heartbreaker and is the laid-back one of the two.
They have had their jabs and have recovered from their operations (like nothing had ever happened) and are now having daily adventures out in the garden. Both adore catching bees and bringing them into the house and leaving them for us (still alive and awaiting rescue) – I think they have been watching too much Springwatch, but hoping they won't do the same with spiders in the autumn. Both are fascinated by our rabbit Mickey – he's not so impressed with them and is definitely the boss in that relationship!
Both are the most dear little characters and are very much loved. We all want to send a huge thanks to Katy and Jess for taking their Mum in and caring for them all during the winter months.