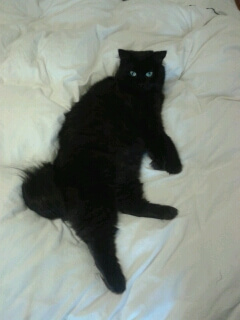 I can't tell you how much Lyla has improved!!! She struts around the house like she's been here forever! Being an incredibly nervous cat, we thought that it would take a year or so for her to loosen up and become more trusting, especially judging by her first month or two with us. Now she has a shining personality that just craves strokes and love!
She stays downstairs most of the time where she plays continuously with our resident cat Loki. This in itself is a huge achievement! I can't sit down on the sofa anymore without her nudging me for strokes and tickles, and she meows when she wants more attention. When me and my partner come into the house in the evenings after work, she runs to the door to meet us and rubs against our legs!
She still doesn't trust new people and keeps a distance, but like the new braver(ish) cat she is, she is venturing outside for a few minutes a day to have a sniff around! All in all I think from the terrified, nervous cat she was, she is now a truly wonderful confident cat!