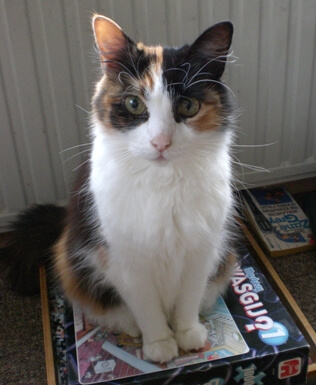 Fifi has settled into her new home very well and is a very happy (and spoiled) cat! She never stops purring and every time I go to the kitchen she follows in the hope of having yet more food (she has been wormed by the way!).
She also immensely enjoys her cat milk. She has now had her first injections and been microchipped and was such a good girl – the vet was astounded at how relaxed she was.
I have attached a picture of her looking her usual gorgeous self – as you can see, she is enjoying helping us doing a jigsaw puzzle!
Many thanks for helping me to find my perfect friend – she is just adorable.