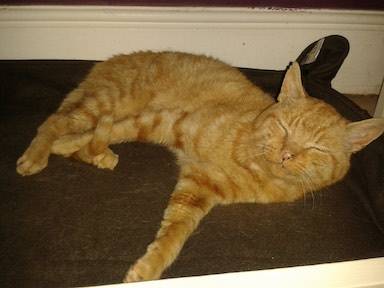 Whilst he is still a little shy, Monty (was Clive) is certainly starting to relax and enjoy his home comforts.  He is eating with the two girls and has discovered the delights of Dreamies – he has learned to know the rustle of the packet in a very short space of time!
I was worried he would find it tough in a home after living rough for so long but he prefers to sleep not just on the spare bed but on a pillow on the bed and when I folded up a spare furry throw on the bed then that was deemed to be even more comfortable and to Sir's liking!  I don't think it will be too long now before he is wandering around like he owns the place and vying with Holly for space on the rug in front of the log burner.
He is a lovely boy and hopefully there are many happy years to come in our little family.