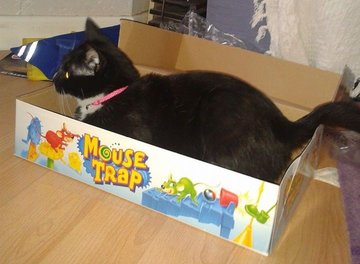 I thought I'd just send an update on Twinkle, the cat we adopted from you at the end of August.
Within hours of bringing her home, she'd settled in and was fast asleep on the dining table! She's been a lovely addition to our family and is a lovely, affectionate little cat.
She appears to have adopted my five year old son as her surrogate kitten and can often be found fast asleep either on or under his bed!
Thank you so much for Twinky; she's very much part of the family now. 🙂 I took this photo of her yesterday – it's as if she could read what the box said, but somehow got the wrong idea as to what it was for!