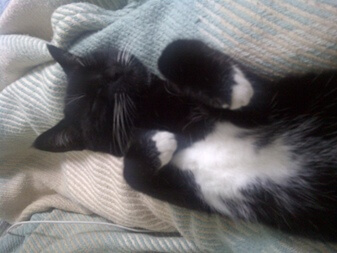 When I first got little Jasmine (was Rose) just over a year ago, she was very shy and a little nervous, but before long her loving personality came bursting out!
She is happiest settled on my lap getting her tummy tickled, keeping me company around the house and has even started following me on walks in the countryside!
She is a lovely little cat and has settled in so completely I almost can't remember a time when I didn't have her. So thanks to everyone for rescuing her – you all do a wonderful job!