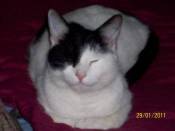 We thought we would update you on Jimmy, who has been with us since November last year. Jimmy has settled in well. He is still a little nervous at times, although at other times races around the house like he owns the place!
He absolutely loves being able to go out and explore the neighbourhood but is equally happy lazing around on the bed.
Many thanks to you all for your hard work.