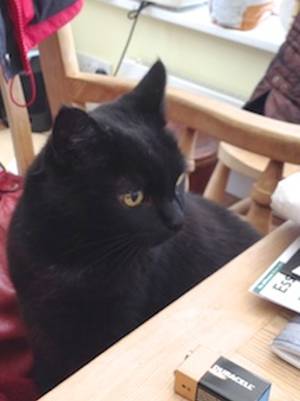 I thought I would write and give you an update on our beautiful boy, Pele. He has now been with us for just over a year, and it was one of the best decisions we have made to adopt him. Actually that is not strictly true because he chose us.
Everybody adores him and now he has got his paws under the table so to speak, it is very clear that he is the master of the house. He loves pottering about in the garden, although that of course is exhausting so he loves to snooze preferably on the kitchen table in the conservatory where it's sunny or on my chair in the sitting room.
In the evening he makes it very clear that I am to hurry up as he want s to sit on my knee. I might add he weighs a ton but he is a wonderful companion. Then he will go and snuggle up next to my husband so he doesn't feel left out and then back to me.
If he thinks we are not paying him enough homage he will jump down and sit with his back to us. When I pick him up after a few seconds he forgives us as honour has been satisfied!
He also loves playing and can be found batting all sorts of items around like a kitten. He adores having his tummy and nose rubbed and will sometimes take my hand between his paws give me a lick and then gently put his teeth on it. I think it is a cat kiss.
We understand he is about 18 and I would say if any would be adopters read this please seriously consider adopting an older cat. He or she will reward you a hundred times over with love and affection.