Reuben
Very friendly but very shy 5 year old neutered and chipped male. He loves a good fuss but is easily startled so will need a quieter home and to be able settle at his own pace. He is very good with other cats and would benefit from living with a more confident cat.
We're really pleased that you'd like to proceed with an adoption application. Before you fill out the form below, please make sure you've read our Adopt page so that you are familiar with our process.
We look forward to hearing from you!
Additional information
| | |
| --- | --- |
| Age | 9 years + |
| Good with other cats or small animals? | Yes |
| Breed | Domestic short hair |
| Good with children? | Over 10s |
| Chipped | Yes |
| Good with dogs? | Unknown |
| Colour | Ginger, Ginger & white |
| Need garden access? | Yes |
| Neutered/ Spayed? | Yes |
| Vaccination Status | Not vaccinated |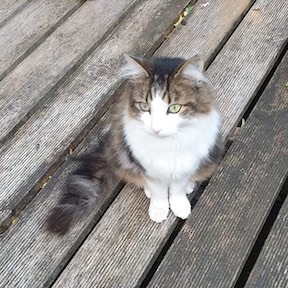 Foster in Bristol, Reserved
This handsome boy is Tommy, 4 years old who has a loving family but he keeps wandering off to a house about a mile away and no-one knows why! Sometimes he's gone for months.. He comes home, is kept in but disappears again so his owners have made the decision to rehome to keep him safe from the busy roads he's crossing. He's a lovely friendly boy, loves a fuss and cuddles and would be fine with older children but would like to be an only puss. He needs to rehomed well away from the Yate area! Neutered and chipped plus comes with 5 weeks free insurance. Are you ready to adopt a cat from Bristol & Wales Cat Rescue? Make sure you read our
Adopt page
and complete our Adoption Application form. [sf_button colour="accent" type="sf-icon-reveal" size="standard" link="/apply" target="_self" icon="fa-paw" dropshadow="no" rounded="yes" extraclass=""]Apply[/sf_button] Already passed the home check?
Contact us
if you'd like to adopt.