Holly and Ivy
Holly and Ivy are an adorable duo who aren't related but have become the best of friends and love to chase each other round playing.
Ivy was very timid and Holly took her under her wing and showed her the ropes and now these besties are inseparable.
Ivy is still shy and will need time to settle in but both are affectionate little purrbags now.
They'll need a quieter adult-only home with a garden away from busy roads and owners who can continue to build Ivy's trust. Holly is a confident girl so it shouldn't take too long!
Both are 9-10 months old, neutered, chipped, vaccinated plus come with 5 weeks free insurance.
We're really pleased that you'd like to proceed with an adoption application. Before you fill out the form below, please make sure you've read our Adopt page so that you are familiar with our process.
We look forward to hearing from you!
Additional information
| | |
| --- | --- |
| Age | 6 months – 1 year |
| Chipped | Yes |
| Neutered/ Spayed? | Yes |
| Sex | Female |
| Vaccination Status | Fully vaccinated |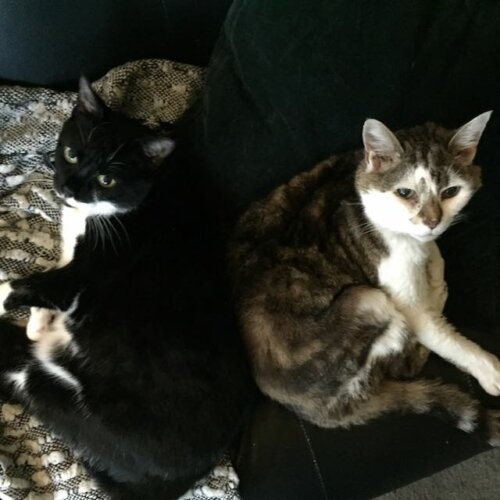 Foster in Bristol
Tilly- black and white A jumpy and anxious but very loving girl. She's a very greedy hungry cat and will steal all the food she can from the cupboard! She will sometimes hide away in the day time when she is getting to know you, but in the evening likes to sprawl across the carpet and perform for scratches and pats. She likes to sit on your lap at night time and makes a lots of biscuits. Tiddles- tabby boy Tiddles is your shadow. He will follow you around anywhere and everywhere. Always wanting to sit next to you and snuggle up at night with you on your lap. Barely ever meows! He is an old boy so doesn't move very fast but LOVES a treat or two. These two have become close and cuddle up together in the day times snoozing. They fight for food and Tilly has been known to actively move the bowl away while Tiddles is eating. Best for a home with no children or loud noises, and lots of time to give. Tilly is 8 Tiddles tabby is 12 Both neutered chipped vaccinated plus come with 5 weeks free insurance. Plus Tilly has had a dental. Are you ready to adopt a cat from Bristol & Wales Cat Rescue? Make sure you read our
Adopt page
and complete our Adoption Application form. [sf_button colour="accent" type="sf-icon-reveal" size="standard" link="/apply" target="_self" icon="fa-paw" dropshadow="no" rounded="yes" extraclass=""]Apply[/sf_button] Already passed the home check?
Contact us
if you'd like to adopt.